Stevens County Ambulance Service is an Advanced Life Support (ALS) ambulance service located in Morris, MN. Stevens County EMS provides all levels of medical transportation services including BLS, ALS, Critical Care, inter-facility patient transfers, and 911 emergency response throughout Stevens County and surrounding area of western Minnesota.
What's New
EMT Classes, AED's and More...
$100 AED Rebate in September
$100 AED REBATE through September AND FREE training for your staff. Contact Jessica. Fall and Winter EMT Classes, CPR, and First Aid at Stevens County Ambulance Service. http://emsed.eventbrite.com to register or call Nate at 1-855-887-2338.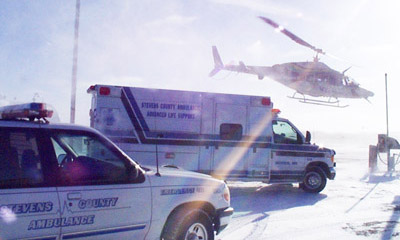 Stevens County Ambulance Service (SCAS) maintains five Advanced Life Support (ALS) equipped ambulances along with a staff of full-time and part-time EMT and Paramedic personnel. SCAS provides ALS intercept capabilities with a quick response vehicle to the surrounding BLS services in Pope, Grant, Swift, Big Stone, and Traverse counties when dispatched and requested. Stevens County EMS Education provides initial, refresher, and customized education courses for EMS agencies, healthcare organizations, business and industry.
Stevens County Ambulance & EMS Education provides a FREE 30 minute Hands-Only CPR and AED presentations for area business and community organizations. "How to Save a Life" program has trained over 7,000 people in the past five years around west central Minnesota.